Most people think that in the event of a fire, they will be able to escape easily – for example, by just walking out the door. However, the reality is very different. When we are confronted with an emergency situation such as a fire, our instincts can betray us. Smoke will literally incapacitate you – it'll reduce your ability to see, breathe and think clearly. The only way to be truly sure that we will do the right thing in the event of a fire is plan for and practise it before it happens.
Our strategy
In order to ensure more New Zealand households have quality escape plans, we needed to overcome the following misconceptions:
That thinking 'We'll just walk out the front door' is an escape plan
That creating an escape plan is difficult.
We needed to simplify escape planning. To make it very clear what a good escape plan consists of and demonstrate that creating an escape plan is easy and doable for all. That's why we've introduced the 3-Step-Escape Plan, which breaks down escape planning to the three most important steps:
1.First escape route
2.Second escape route
3.Meeting place.
The campaign will appear on social media and online from 25 October 2021, and from 28 October 2021 on TV (mainstream and online), radio, in print and street signage, and will run to the end of November. This campaign will be supported by Phase 2, Escape Week, in February 2022.
Please find below campaign resources you are welcome to use through your channels alongside the following key message:
To survive a house fire everyone in your household needs to know your 3-Step-Escape Plan
First escape route.
Second escape route.
Meeting place.
You can go to www.escapemyhouse.co.nz to complete your plan now
Social media
Proposed post copy: To survive a house fire, you need to make sure everyone in your household knows three important things. www.escapemyhouse.co.nz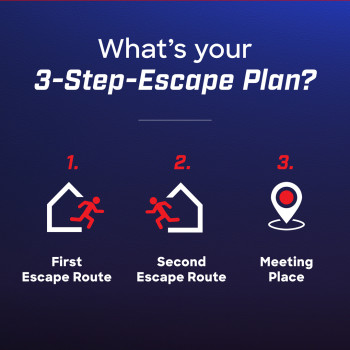 3 Step Social Feed In 1080x1080px
Printable 3-Step-Escape Plan
Head to escapemyhouse.co.nz to make a 3-Step-Escape Plan.