International Firefighters' Day profiles
Barbara Olah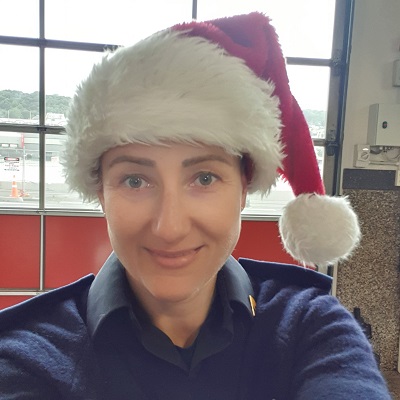 The Black Friday bushfires in Melbourne were the driving force behind Dunedin Station Officer, Barbara Olah's career-switch from the science arena to the red trucks.
Barbara shares, "I saw the complete devastation of the bushfires and felt helpless. That was the feeling that made me want to become a firefighter, I wanted to be that person to help communities when they're vulnerable.
"At the time, I was working in the science field. I often thought back to those fires and knew I wanted to help, so I made the move and 16 years later and haven't looked back.
"I still find it a real honour and a privilege, even after all this time. The real joy that comes out of the job for me is helping people in need – that feeling has been a constant," says Barbara.
Barbara says that her crew at the St Kilda fire station in Dunedin make her job easy.
"They're a reasonably young crew and are all very keen to learn and get stuck in, plus they're just great at what they do," says Barbara.
Since moving to New Zealand and becoming a firefighter, Barbara has worked in Wellington and Dunedin and responded to a host of incidents.
Namely, she was a first responder on the Canterbury Earthquake taskforce, sent up just three hours after the earthquake struck in 2011.
"While it wasn't easy responding to the deadly quake, we were there for the Christchurch community when they needed us, which ultimately is why I wanted to be a firefighter," says Barbara.
She recalls an incident from her days in Wellington.
"A whole block of houses was on fire in Lower Hutt – we got there and instantly got to work getting the fire under control and then put out. We were all doing what we could to salvage what was there.
"It was hard work sure, but it always comes back to the same thing – and that's helping people," says Barbara.
Barry Madgwick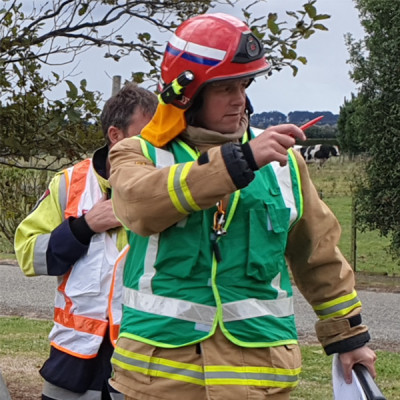 For Palmerston North Station Officer Barry Madgwick, making a difference in people's lives is one of the real highlights of being a firefighter at Fire and Emergency.
"I've been to countless incidents over the last three decades. We often see people at their most vulnerable and as a firefighter you always strive to do your best in those situations."
Barry started with the New Zealand Fire Service as a volunteer nearly 30 years ago but always had a goal of becoming a career firefighter.
"After 10 years of volunteering, I applied to be a career firefighter and I'm chuffed I've managed to do this as a job for nearly 20 years now."
"I knew that volunteering was a great start and it definitely sewed the seed for my future. I will always be grateful for how I started my firefighter journey as a volunteer in Taranaki and Levin," says SO Madgwick.
"After 10 years of volunteering, I applied to be a career firefighter and I'm very privileged that I've been able to do this as my job for nearly 20 years now."
"When I think of my career, I'm always proud of what as a firefighter I have achieved, the fantastic people I have met and worked alongside and I look forward to what the future will hold," he says.
Becoming a firefighter just felt natural for Barry. "My father was a volunteer fire fighter and growing up all the kids would be hanging out at the station.
"One of the best things about being a firefighter is the lifelong friendships that are formed. I'm privileged to say I have met and worked with some great people during my career who I now consider to be close friends. That's pretty special to me."
Barry still feels 'super proud' putting the uniform on each day.
"It's great working with people who also have that pride, and we share that unique bond as firefighters.
"Our crews work really hard to achieve our goals, we are all bring different skills and attributes from a variety of backgrounds, but as a unit we come together as firefighters for our community."
As a leader of his crew, Barry wants to make sure those who work around him enjoy their roles and appreciate the difference they can make as a firefighter.
"This is a job where passion shines through; whether it's on the trucks or even teaching a class full of kids about fire safety.
"Being a firefighter is a pretty special thing and working alongside people with this passion to help others is what it is all about"
Barry Thomas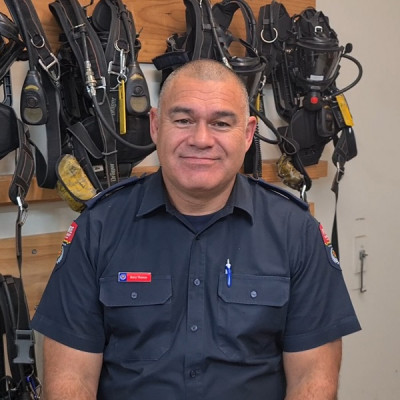 From a small provincial brigade to the country's busiest fire station, Barry Thomas has done it all.
With 18 years' experience under his belt, Barry has attended a wide range of incidents over the years including rural wildfires, hazardous substance events and the New Zealand International Convention Centre fire in October 2019.
Barry served in Gisborne for 16 years before deciding to move to Auckland in 2019. He is currently a Station Officer at Auckland City Station where they average about 3,000 callouts per year – making it the busiest station in New Zealand.
Moving to the big city also offered the opportunity for him to join the Urban Search and Rescue (USAR) team as a logistician.
"The skills I've learnt through USAR are really valuable and are actually very useful in my everyday life," Barry says.
Throughout his career, Barry has made his way up the ranks from Firefighter to Station Officer. As the Officer in Charge (OIC) he enjoys leading and motivating the fellow firefighters in his crew.
"I'm thankful for all the opportunities I've received for professional development over the years."
Growing up in a small village with a local volunteer brigade, Barry didn't know it was an option to be a full-time career firefighter. It wasn't until later in life that a friend suggested he consider the change in profession.
"It's the best job in the world!" he beams.
"I'm proud to be such a useful part of the community and to know I'm doing some good to those in need."
"We show up when people are having a bad day so it's a great feeling being able to help make it better for them. They are always happy to see us."
Brenda Davis
It's always been a family affair for Rural Crew Leader, Brenda, with her uncle and two cousins being part of the Edgecumbe Fire Brigade growing up. She joined her Rural Brigade in Whakatane 25 years ago, and now sees her crew as family.
"I was a volunteer with Civil Defence and it was a teammate there that was also part of the Rural Brigade that suggested I should join and I'm really glad that I did all those years ago," says Brenda.
Brenda shares, "I love our crew. It's a real mix of different years of experience from longstanding members to some who have been with us for a year or so.
"Our new members bring with them energy and enthusiasm which is fantastic. We recently had three young females join our crew. I get to work closely with them and enjoy the opportunities that arise to be their mentor – that's been nothing short of amazing.
"During our time we've had several females come and go within our brigade. What I really value, is that we have always felt equal to our male firefighters in the crew.
"I'm currently the only female crew leader, but I look forward to seeing more females join us and to also move up the ranks," she says.
In Brenda's role, being based rurally, they respond to a lot of vegetation fires which range in size.
Brenda has been exposed to both ends of the scale though, with a recent deployment in December 2020 for the Australian bushfires.
"Being involved in that deployment was the biggest highlight of my years in firefighting so far. Those fires were something I've never experienced in New Zealand," says Brenda.
Richie Bee
For Richie Bee, becoming a firefighter fulfilled a childhood dream.
"Every kid dreams of riding in a big red truck," Lincoln Volunteer Station Officer Richie Bee says.
In fulfilling his dream, Richie has spent most his adult life volunteering and supporting his community.
"I've been a part of the brigade for 25 years," he says.
Over the last two and a half decades he's seen plenty of changes, both as a firefighter and around Lincoln.
Lincoln has changed from a small village on the outskirts of Christchurch, to a bustling hub. It has seen a significant population increase and with that has also come changes in what they respond to and how often they are called out.
Richie says that every call is varied and there are plenty of challenges in the role.
"With Lincoln being semi-rural, sadly we get called to a number of car crashes, with the dry weather we can be busy with grass fires, there's medical call outs and of course house fires.
"You never know what you are being called to when the siren goes off."
While riding the red truck is the core part of his volunteering, Richie says there's another part of his role he takes pride in.
"Teaching our community about home fire safety is a really important aspect of what we do at Fire and Emergency."
"My day job is building, so I get to spend a lot of time in people's houses and helping them improve their properties and create dream homes."
"Visiting members of our community for a home fire safety visit can be the difference between a family being safe and a potentially devastating house fire."
When Richie Bee thinks about his life as a volunteer firefighter, he's just grateful for the support he gets from his fellow brigade members.
"I just admire people who give up their time in such a busy world."
Sapphire Cavie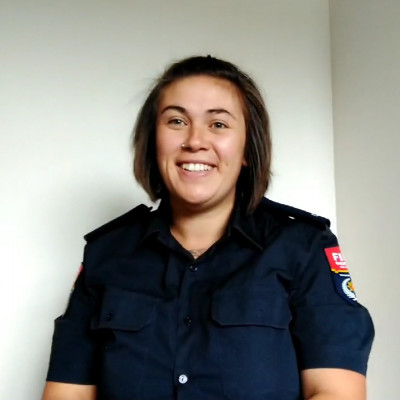 When Volunteer Firefighter Sapphire Cavie moved to a new area with no whānau or friends nearby, she went looking for an opportunity to make friends and get involved with her new community.
"Growing up in a Maori whānau, I always loved having people around, so I joined the local volunteer fire brigade to feel that connection," she says.
"My partner and my child's kindy teacher both volunteer with me – making that sense of connection even stronger."
Sapphire began her recruitment training in February 2020 with Lower Hutt's Wainuiomata Volunteer Fire Brigade and is and is now at Firefighter rank.
"I have only been with the brigade for a short amount of time, but I already feel supported by all the people in my crew."
The crew have given Sapphire a warm welcome and plenty of opportunities to develop her skills – getting her out on a range of callouts including medical events, fires and community outreach events.
Sapphire says she's always had a drive to help others in need and is grateful for this opportunity to do just that.
"Volunteering for the local brigade means I can do my part to help others in a safe way while also making friends along the way."
Scott Randall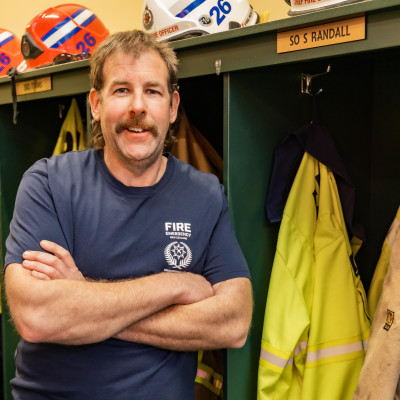 Renwick Volunteer Fire Brigade's Chief Fire Officer Scott Randall speaks with pride and excitement about his crew and the work they do.
"The Renwick crew are an amazing bunch of people and I am proud to have each of them in my brigade," he says.
"They are from different backgrounds with varied skillsets but when everyone comes together its magic."
As well as attending house and vegetation fires, medical calls and motor vehicle accidents, the Renwick Volunteer Fire Brigade loves getting involved with the community and doing fundraisers.
Last year Scott won the brigade's 2020 Movember competition for men's health issues.
"Helping the community is my favourite part of the job and is the reason I decided to volunteer in the first place," Scott says.
"My friend and I went along to the Blenheim Volunteer Fire Brigade open night just to have a look and I was sold. It sounded like a great opportunity to get involved and do my part to serve the community, but it was also a chance to meet new people along the way."
Scott volunteered at the busy Blenheim Volunteer Fire Brigade for 5 years gaining on-the-job experience in a range of callouts.
He then moved his growing family to Renwick and joined their Volunteer Fire Brigade.
Scott's been with the Renwick Volunteer Fire Brigade for 13 years and is currently their Chief Fire Officer.
Tash Hill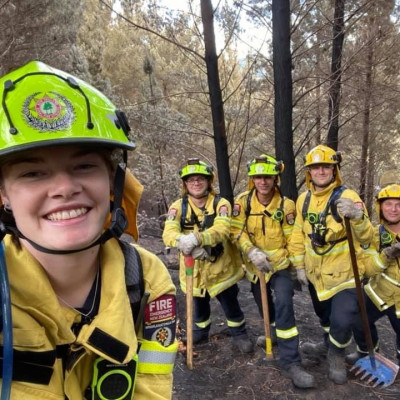 There's no doubt that Tash Hill is passionate about being a firefighter. The 26-year-old is currently an active member of not one but two volunteer brigades - Kohi Rural Fire Force and Stratford Volunteer Brigade, where she responds to a range of incidents such as motor vehicle accidents, medical emergencies, and rubbish fires.
"I have been a firefighter for just three years, but it has been the best three years of my life so far!
"I wanted to be a firefighter for a long time, and when I moved back home from university, I decided that it was something I was going to do. Little did I know that it would become one of the best things in my life and I would be able to achieve so much."
During her time as firefighter, Tash has had the opportunity to be deployed to a number of large wildfire incidents with her first one being the Tasman fires which took place in 2019.
"I arrived at the fire and was tasked with helping out to dampening down hot spots. They were long hot days, but it was awesome – very worthwhile.
When I first got there, it was a bit daunting as I had no idea what to expect but everyone was so friendly and willing to lend a hand. I had one firefighter from down South mentor me for a day after we had talked about this being my first deployment. I knew I had joined an awesome organisation at that point."
Tash's most recent deployment was to Queensland in 2019. Tash describes this deployment as being quite different from her previous ones as she and her crew were heading into a situation with live fire.
"We were dealing with unexplainable flame heights, people losing their homes and livelihoods. On day we save a home and the feeling of reward that I felt was indescribable.
"And that's the thing about firefighting – not only do you get to be part of a warm and encouraging brigade who become like family to you but you also get to give back to the community."
Tracy Rhodes
A passion for firefighting runs deep in Tracy Rhodes' family.
Her father was a volunteer firefighter for 25 years and Tracy was brought up as a "fire brigade kid".
"It seemed so natural to me, having spent so much of my childhood with Dad at the local volunteer station. So, when I was 17 years old, I joined up."
Tracy was the first female firefighter in her brigade. She has been doing it for 30 years now and is a Senior Firefighter at the Whakatane Volunteer Fire Brigade where she and her brigade attend over 300 incidents a year – from structural fires, motor vehicle accidents through to medical emergencies.
"Being the first female firefighter in the brigade was challenging but my persistence paid off. I now work with a great bunch of guys and currently have another female colleague – it's awesome to see more females getting into firefighting."
Tracy's husband Jamie is also a firefighter and he's currently the Controller for their local Rural Fire Brigade, which is the other brigade in Whakatane where they live with their two daughters.
Tracy's daughters have followed in the footsteps of their parents and have also taken up firefighting.
"Our eldest daughter Emmerson joined my husband Jamie's brigade and is now a qualified firefighter.
"Our youngest Jordyn is attending training at the moment as an observer until she is able to join when she turns 16 in November. She would love to be a volunteer with me at my station, so it could be setup for a bit of rivalry at home!"
Tracy's hard work and dedication was recognised recently when she was presented with a Gold Star by Fire and Emergency, which was presented to her by her Dad.
"It was one of the highlights of my life – being presented my Gold Star by my Dad!"
Anna Gordon
Anna Gordon will always remember the moment her car rolled when she was 15-years old and was saved by local volunteer firefighters.
"I was trapped upside down and it was terrifying," Anna recalls. "They had to extricate me from the car and throughout the whole incident one of the firefighters lay next to my crushed car, reached in and held my hand. I couldn't see them but they made the commitment to continue to hold my hand until I was freed.
"It was such a comfort to know that I wasn't alone, and I always knew that at some stage in my life I needed to pay that back."
And she did. In fact, Anna has been paying it back for over a decade now since she signed up to be a volunteer firefighter in 2002.
Anna started volunteering for the Army Brigade in Waiouru who were responsible for attending to incidents on the Desert Road, the Waiouru Army Camp and their training area. She stayed with the brigade for a few years before taking some time off to have her two children, Liam and Isla.
She then joined the Ashhurst Volunteer Brigade in 2016 and has been volunteering with them since. During that time Anna also started working for Fire and Emergency as an employee and is currently a Fire Risk Management Officer in the Manuwatu area. In this role Anna works with the community, the local council, and other Government agencies to identify and reduce the risk of fire.
"My day job is an exciting and dynamic role, which I love but it's also great to be part of the Ashhurst volunteer crew where I get to help those in my community in moments where they need it the most.
"Now I'm the one that gets to hold people's hand and offer them comfort – it's such a simple gesture but I know that it can mean the world."
Ed Dance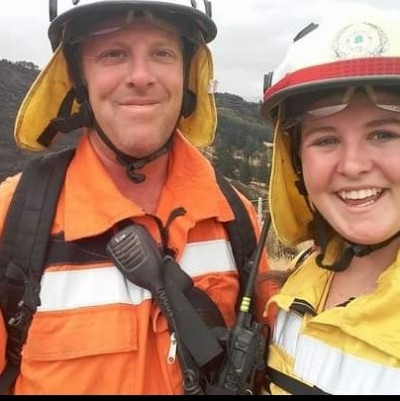 Ed Dance is a man who always wanted to be a firefighter.
Now, he's been one in two different countries; New Zealand and England.
Prior to moving to New Zealand, he was an on-call firefighter at home in England. Since calling New Zealand home, he got involved with the Darfield Rural Fire Force.
The brigade was originally formed by the Selwyn District Council in 2015, at a time when local authorities managed rural fire responses.
Fire and Emergency now manages the brigade, after it was created in 2017.
He currently holds the title of Deputy Controller and enjoys working alongside the 33 other members of the brigade.
"Our brigade ranges in age from 16 to 82, so we have a real mix of experience."
Since becoming part of Fire and Emergency, one change Ed has enjoyed is the close operating relationship they have with the Darfield Urban Brigade.
"As Deputy Controller for the Rural Fire Force, I sort of lead my brigade and work under the direction of the Chief Fire Officer of Darfield Urban."
"It is really cool to share experiences and work alongside the team from down the road," he says.
"We are really enthusiastic about the future of our brigade and the support we get from our leaders at Fire and Emergency."
Like many industries, firefighting is changeable and Mr Dance jumps at the opportunities develop his skills.
"We have good training facilities here in Canterbury and at our National Training Centre.
As well as learning new tactics and ways to handle situations, Mr Dance really enjoys talking over different experiences his Fire and Emergency colleagues have had around the country.
"I was involved in the Port Hills fire for example and wore many hats over the course of the fire."
"It is quite good to talk to my peers around the country about the similar experiences they've had," Ed says.
As for this truly international firefighter's plans for International Firefighters' Day?
"Hopefully, I can just relax with my family, including my two firefighter daughters."
Nyge Rimmer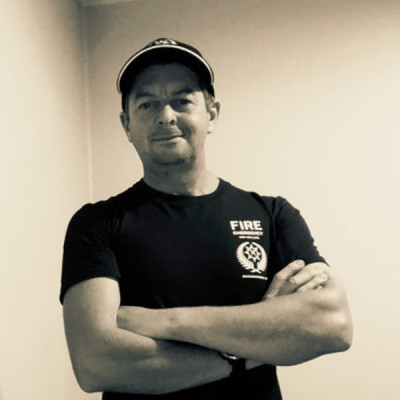 "Anyone thinking of signing up to be a volunteer firefighter should just do it," encourages Nyge Rimmer, a rural firefighter in Appleby in the South Island's Tasman District who's about to celebrate his one-year anniversary of joining his local brigade.
A keen volunteer in his community, Nyge had some presumptions that stopped him joining the brigade earlier.
"I thought I wasn't physically big enough, and that my fulltime day job would have been too restrictive to become a firefighter.
"But, if volunteering as a firefighter has taught me anything, it's not to make assumptions – instead make difference," says Nyge.
Nyge describes the past year as an exciting one, getting up to speed with the training required to get on the trucks. He says Fire and Emergency has an amazing training programme and provides great support.
Not a stranger to emergency response work, Nyge has been a volunteer with Nelson Tasman Response Team training for civil emergencies for three and a half years. It was a team member that knew Nyge would enjoy being part of his local brigade.
Nyge shares, "And he was right. It's been a completely rewarding and fulfilling experience. I love it – it feels rewarding to make a difference, and to keep learning new things.
"We're based alongside the busy Appleby highway so all year around a lot of our work is helping motorists at motor vehicle incidents alongside the Richmond brigade. We're busy during the summer fighting vegetation and bushfires.
"I honestly think joining my local brigade has given me the opportunity to volunteer with some of the best people I've met. We're all from a variety of vocations, and our ages range from 18 years old to 70 plus.
"In our brigade there's a lot of experience to lean on – there's always someone willing to share that experience and help you. It's not all hard work and no play either – in the summer we often get together for a BBQ in the sun," says Nyge.