Matt Owens
Firefighter
Awhitu Volunteer Fire Brigade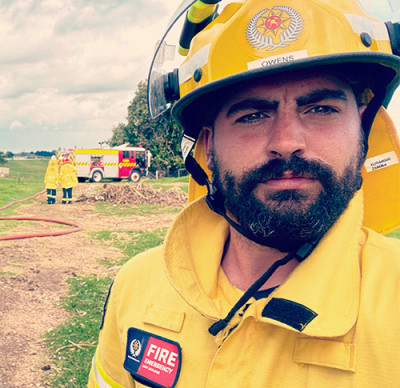 I was a musician in Auckland before I moved to Awhitu. I hadn't been here long before the local fire crew turned up to fight a large scrub fire up the road from where I lived. I lent them my motorbike to help carry portable pumps to ponds around the farm where the fire was.
I joined the Awhitu Rural Fire Force the next week and have loved it ever since.
As a rural volunteer firefighter, I'm always at the ready to drop what I'm doing and get to the station when the sirens sound – even if it means leaving the dishes.
I remember just getting back from a fishing trip with a friend and we were just about to start the clean-up process when my pager went off. Poor dude was left to fillet 15 snapper. I've promised him it's my turn next time.
For me, the sense of purpose and the feeling you get from helping others and giving back to your community is one of the greatest feelings you can experience.
And not just people. In September last year, I spotted an injured magpie on the side of the road and knew I had to help her. I rescued her and named her Swoop. She stuck around and became best pals with my cat Mowgli.
I decided to make an Instagram page for them for a bit of fun - @swoopandmowgli – but never expected that it would gain an international following of over 61,000 people!
Swoop and Mowgli haven't been made honorary members of the brigade yet – maybe I'll put that forward to the team. They've seen the videos - some love them, some roll their eyes and have a laugh about it all.
As a brigade we also share a special bond – from laughs and jokes to support through some rough times.
I will always be grateful for the response and support of the brigade after my dad had a devastating accident while fighting cancer. Within minutes of me calling the ambulance, an army of my fellow volunteers and friends were there by my side supporting me while helping my father.
That day will stay with me forever.
Scylla Magalhaes
Qualified Firefighter and Brigade Support
Devonport Volunteer Fire Brigade
I came to New Zealand from Brazil on a working holiday eleven years ago and fell in love with the country straight away.
I wanted to get to know the culture better - get involved in the community. The Devonport Fire Station had this sign saying, "we need volunteers". I thought it would be the coolest thing to get to know New Zealand from a volunteer side. But I never thought I'd be eligible – I'm female, just arrived from another country. Anyway, I sent off an email to say hi and explain my situation and they said pop by on Monday night for a chat.
They've been in my life ever since - they are my family. Those guys are amazing. They came to my wedding and surprised me at my citizenship ceremony, all turning up in uniform.
I'm a qualified firefighter and before having my beautiful daughter I was about to do my emergency response driving course to become a driver and pumpy.
My daughter's 11 months old so at present I'm mainly doing admin work for the brigade. I'm also enjoying being back doing Combat Challenge training. It's a bit like the firefighters' ironman.
I am the runt of the litter with regard to Combat Challenge, but I am proud to say that I have participated in a few competitions around New Zealand and at the world champs in Sacramento, California. The goal is to keep training, stay fit for the job and keep enjoying the amazingly supportive and vibrant Combat Challenge family.
Being a volunteer is not all about fighting fires, it's mostly supporting the community, like cleaning gutters for the elderly and digging out drains - preventive measures - it's so rewarding.
One time we were frantically digging trenches and moving furniture to prevent further damage to a local house during a major storm and then all of a sudden, all these neighbours turned up with spades - even a 12- year- old boy - working alongside us for hours. It was amazing this community spirit.
Volunteering is life changing and so rewarding and empowering.
All the women out there should give it a go, we need more women, they bring balance and have a softer approach, it's fantastic how strong we are when surrounded by strong peers both male and female.
Henry Grey
Firefighter
Silverstream Volunteer Fire Brigade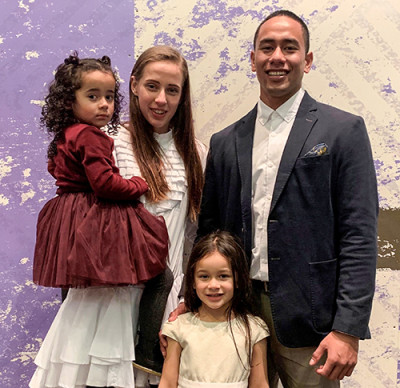 Life in New Zealand began for me through a rugby sponsorship with St Pats Silverstream.

While at school I'd often hear the local fire service alarm go off all hours of the morning. I was surprised to learn they were all volunteers and weren't paid.

Years later I settled back in Silverstream with my young family. On our return, I said to my wife, "I'd like to volunteer - I want to serve".
Being a volunteer has exposed me to so much. I love our brigade, the banter and camaraderie. We make connections with each other and there's more challenges than you'd think.

My first team memory was travelling to an explosion. Our senior member said, "stick together boys - never put yourself out there to be a risk or leave your teammates exposed."
We arrived to see windows blown out by fire. I thought to myself - these guys really are the difference makers.

Despite missing family moments and having to balance all aspects of my life, volunteering is a big part of our family now. My girls will often hear the fire alarm go off before me and say, "bye Dad".

My wife Chloe is our planner and we're a team of volunteers; last year she helped me raise $21,000 for Sky Tower Challenge. Chloe's super competitive and driven - she'd dress our girls up in flamingo dresses at events and they'd raise more funds than us.

One profound event was when our brigade tried to resuscitate a man who'd had a had a heart attack when mowing the lawns. It was one of my saddest moments; my Dad died alone in Samoa of a stroke. The lead paramedic told us he'd gone, his wife said her goodbyes as I'd kept thinking, "Don't give up - go hard. There's always hope."

A family member of the man who died recognised me from school. I told him we really did try. He thanked me and responded kindly by saying of his grandad, "we believe it was his time." Sometimes we see some traumatic things, but if we can be there in others' moments, it's all worth it.
Louise Grevel
Recruit Firefighter
Waitakere Volunteer Fire Brigade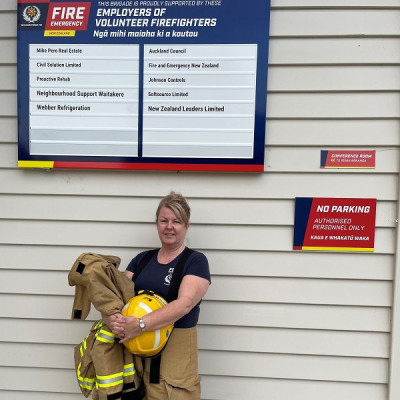 I have been heavily involved in our community since our children were little, starting with kindy, school and then my role with Neighbourhood Support Waitakere.
Our Brigade is a hub, supporting all local community events and emergencies. They had been twisting my arm for years to join.
I initially joined as Brigade Support and then I was home one Friday witnessing the siren sounding three times throughout the day and wanted to get more involved, so I took the next step and became a firefighter.
Usually I'd be working outside of Waitakere three times a week for work. But with more flexible ways of working as result of COVID-19, I am available for call-outs during the working day. The more flexible ways of working mean there's a real opportunity for new volunteers to get involved.
When there's a call-out, my co-worker will manage the office and if on a video conference with the team I'll let them know I have to go and will pick everything up later. Everyone is a great support and understands the importance of my volunteer role for the community - that's what Neighbourhood Support is all about. It's great that my volunteering and my paid employment complement each other.
Fire and Emergency's proud employer mark is displayed proudly in our Neighbourhood Support office and on website recognising the part they play in keeping the community safe.
If a business is prepared to support the need of the community, I think that's something that should be celebrated.
Mike Todd
Operational Support
Westport Volunteer Fire Brigade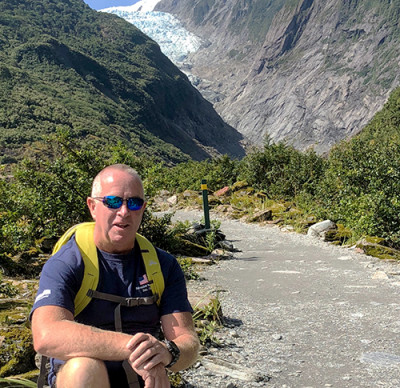 I come from a family of volunteers really. All my family, all my brothers and sisters, they all volunteer for things. My mother, she'd been in St Johns for 79 years.
In Operational Support, we do all the blocking the streets off, dealing with spectators. What we can't do is put BA [breathing apparatus] on and go into a house. I became a CIPSS [Critical Incident Personal Stress Supporter] person. I've gone through quite a lot of training for how to listen to people, how to help the firies out, you know. It's been extremely rewarding for me.
One occasion, my wife and I had been out for dinner and you know the siren's gone off and so she's had to have her dinner all by herself. Sometimes you go to a fire at 2 o'clock in the morning and getting home from that and getting changed to go to work it can be tough. But even my boss has my back. My boss said to me, "You know, hey it might be my house one day".
Five years ago we were at honours night and the award came up – Firefighter of the Year. The Deputy Chief got up. He made an announcement about this award being more [for] people who go the extra mile. Do their extra little bit. I definitely wasn't thinking I was going to get it. When my name was read out, I was like a stunned mullet. I didn't even think I would be in for it.
We had a cyclone came through here one Easter about four years ago. We were out from about six in the morning to about 10:30 at night. I think Comms ended up radioing us and said our truck was stood down. You guys have gotta go home. I had spent so long and so much energy during the day racing around fixing everyone's houses up that I didn't know whether I had a house to come home to. So that was probably the most taxing thing … that cyclone would have been the most challenging. Normally you just want to get home and know that your house is ok.
That same weekend, the Sunday, we had pulled our appliances apart. And we decided to have a cup of tea. We went sitting outside. People were sending in scones and pikelets…there were people going past in their cars, tooting and giving us the thumbs up. That's what made that whole weekend better.
Marilyn Barbarich
Firefighter
Nuhaka Volunteer Fire Brigade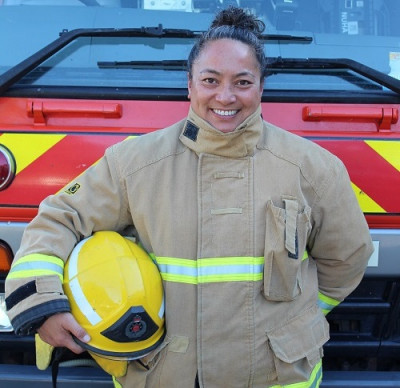 I usually give up my Christmas and New Year's now. Because I live at home. I usually stay at home by myself and I save myself up, just in case. I think it's more important to be there for the people than it is to have a party.
The first New Year's that I gave up, it was like wow. It was kind of exciting responding to incidents, and I thought this was actually better than getting on the plonk on New Year's Eve. It's much more memorable and more rewarding.
The thing is, I'm a bit of a loner and my family understand that. Serving others is something I can kind of get deep on. I understand that giving to others rewards you.
Recently I watched this documentary about a guy who was going to commit suicide, and he was asked to help someone else. Then that made him feel great and he continued the life. It's a karma thing.
We're a small brigade. The men are naturally quite practical, whereas us females, we involve ourselves more with the people. We've known each other since we were kids. We're all the same age, we were in the same class so there's that deep whanaungatanga, that connectedness.
As a child I think I was always attracted to Fire and Emergency, but my sister's death really was the catalyst for this, I think. I became quite passionate about helping others. I wanted to do what they did for me. The thing is with sudden death the grief is like a flood. You don't have time to prepare.
But the one thing that stood out for me was the emergency services' support. Even though family visited that day, I don't remember them, it was the emergency services that stood out for me. In all the chaos, and while I'm in shock, I'm looking at them and thinking wow, that's amazing and I really appreciated them taking the time out to support us. It just meant so much and I never forgot that. That was the reason why.
Ken Keenan
Brigade Controller
Hedgehope Volunteer Fire Brigade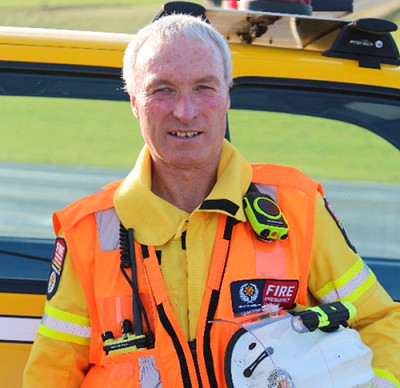 Eight of us started this with a ute and a trailer.
At the time we thought we'd better help ourselves because the nearest fire brigade was over an hour away.
We've been through four different names over the 25 years. Now we're the Hedgehope Volunteer Fire Brigade, Southland.
I've got my two sons in the brigade and twenty-six other crew members.
It took a while to encourage the local women to join us, but about five years ago we got the first one – and when she told the others it was pretty good - we got five more.
Two of them are nurses and we couldn't do without them.
We are a co-responder brigade and when we turn up to a car accident or a medical call out our nurses know exactly what to do. It can get pretty sad those call outs, and we're glad to just let our nurses do their thing until the ambulance arrives.
Back in 1999 we built our own three bay fire station. Now we have a couple of tankers too. With those and our brigade members who are farmers, agricultural contractors, truck-drivers and engineers, we get called out to help out other brigades all across Southland.
They're a great team and they train and work really well together. That's incredibly important. I've been Brigade Controller here for eighteen years and I've got a lot of satisfaction watching the team grow. They just get better.
I'd like to thank my wife Marie. Without her I couldn't have done any of this. She runs a pretty good ship with our sheep and beef farm when I'm away. And I've been away quite a bit.
I have to say a huge incentive for me to keep volunteering has been going on overseas deployments – I've been to Aussie eight times including twice this last fire season as the fires there were unprecedented.
Kelli Sutton
Operational Support
New Plymouth Operational Support Unit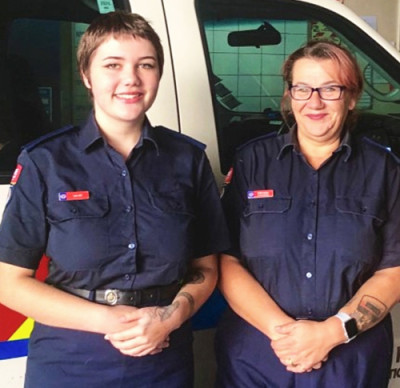 Nearly 10 years ago I was having a conversation with my kids about what they wanted to be when they were older.
My eldest daughter turned around and asked me what I was going to do when I grew up. I hadn't really thought about it before. As a stay at home mum of four kids aged between 4 to 16, I thought I was already "grown up".
It started as a bit of a joke when I replied "I'm going to be a firefighter" but shortly after went down to the local fire station and joined the New Plymouth Operational Support Unit. I haven't looked back since.
As Operational Support, we don't run in to burning buildings – which suits me and my family. But we do everything else to keep our community and firefighters safe.
Manage traffic. Ensure there's enough lighting at an incident. Keep public at a safe distance. Help look after families of victims or car accidents or those whose homes have burned down. We do it all.
My family is everything to me and are very supportive of my volunteering. So much so that one of my daughters Tyla also joined our brigade two years ago when she turned 16.
It was really exciting that she was interested in what I did and wanted to be part of the brigade. Of course I was a little apprehensive with her joining at first – as any mum would be. But after about the third call not so much. Now I'm just glad she can share it with me.
Everyone that knows me has got used to the fact that when the pager goes, I'm going to leave. That's just a part of me now.
It seems a little strange that helping at fires or motor vehicle accidents is a bit of an escape for me but it is. It's my "me time" where I can forget about what's going on at home and help my community.
Seth Rance
Senior Station Officer
Greytown Volunteer Fire Brigade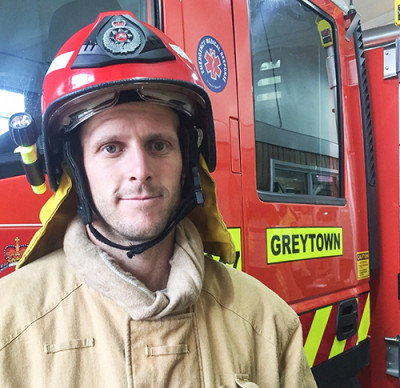 It seems a lifetime ago when I got the nudge from my parents to knock on the door at the Greytown Fire Station and ask about volunteering. In fact, I think I was half my age now – just a fresh-faced schoolboy of about sixteen when I first started as a volunteer.
Reflecting back, life has changed a fair bit over the years. I'm married to my wife Suzannah, have three kids, have managed a few games for the Black Caps and toil away on the tools during the winter for my company – SR Building. But the one constant has been my involvement with the Greytown Fire Brigade; it's funny, while I've been involved for 16 years, I think I'm still the youngest in the brigade.
While my volunteering has been a constant for me over the course of my adult life, I'm grateful for the flexibility my brigade has shown me. Often, I've been away for long periods with cricket, whether that's with the Central Stags or national representative commitments – but my brigade always ensures I get the opportunity to keep up with training and they work around my schedules.
I'm lucky with the support of my wife Suzannah, with both my firefighting and cricket commitments. Both of them have similarities in disrupting potential plans; you can be asleep at 2am and get called out to a motor vehicle accident or a fire, or you could get a call to jump on a plane to join a team. I think it comes down to a sense of loyalty and love for what I do, on the truck or with ball in hand on the cricket pitch.
I still enjoy being called out and spending time with everyone. While my responsibilities have increased since I was 16, my passion for Greytown and looking out for the area with Fire and Emergency remains strong.