West Coast Local Advisory Committee
Welcome to the new West Coast Local Advisory Committee - mihi mai rā.
The West Coast Local Advisory Committee has now been established. Read more below about who is involved.
TERRY DONALDSON (Chair)
Terry is a mechanical superintendent involved in coal mining operations across Buller and Grey districts. He has substantial governance experience in the education sector and is currently a Minister-appointed member of the Barrytown School Board of Trustees. He is Chair of the Mawhera, Kahui Ako Stewardship group in the Grey District School Cluster, and previous Chair of both the Ngahere and Barrytown School Boards of Trustees. Terry was previously Senior Firefighter with the Ngahere Volunteer Fire Brigade. He was also Chair for the Greymouth SPCA Board that successfully restored the organisation to financial and operational health.
ANDY THOMPSON (Deputy Chair)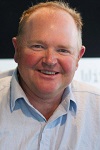 After dairy farming in Nelson for 10 years, Andy moved to the West Coast to establish a family dairy farming business. In 2016 he came off the farm and took up a position with NZME as a local radio presenter of an agriculture programme broadcast on the Coast and in Southland "The Muster". Andy was also Engagement and Stakeholder Manager for the Department of Conservation (DOC) for the Papāroa Track (new Great Walk). He was also on the Westland District Council, and the founder and Managing Director for Agfest West Coast, as well as Public Information Manager – Westland for West Coast Civil Defence.
HEATH MILNE (Member)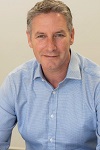 Heath is currently CEO of Development West Coast. He has had a career in international marketing and operations in the meat industry. Heath was elected the NZ delegate and board member of the UK International Meat Traders Association and involved in the advocacy to the UK government and EU agencies on the post Brexit arrangements for meat trade access arrangements.
SHOSHY PERCHIG-GIBLI (Member)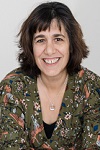 From Israel, Shoshy and her husband immigrated to New Zealand 17 years ago to settle and bring up their family on the West Coast. Shoshy has a background in social sciences specialising in teaching and more recently life and vocational counselling. She is actively involved in the community participating in several community boards and interest groups to achieve positive community outcomes.
MARK DAVIES (Member)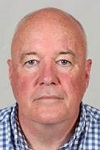 Mark's career in conservation spans 40 years starting as a ranger for several North Island national parks, then taking up various management roles in Department of Conservation (DOC) focusing on strategic and operational planning. Mark is currently the Director of the West South Island Region (West Coast), the largest land area in NZ under DOC's custodianship.
MARK BOLLAND (Member)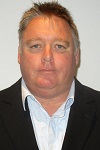 As director of a property valuation company Mark has been working as a surveyor and valuer for 20 years throughout the West Coast. He has been involved over many years in surf life-saving and volunteering on the Coast His leadership in developing innovative and collaborative solutions across the local Coast Guard and other emergency services has been recognised as best practice in New Zealand.
ZAK NEALE (Member)
Zak currently works at a local milk products company where he is currently Critical Risk and Emergency Planner and Chair of the Health and Safety Committee. He is also a volunteer fire fighter and leads the local Boys' Brigade youth group.
The map below shows the area that the West Coast LAC will cover (shown in dark blue).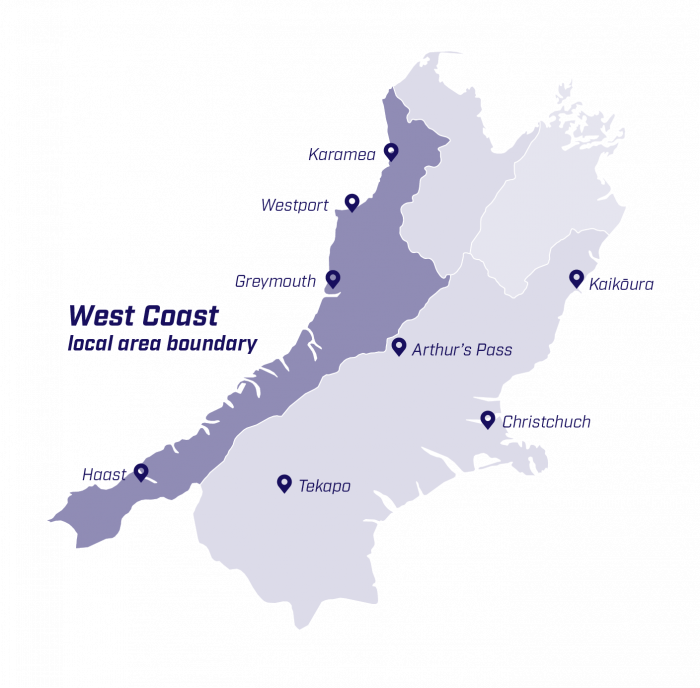 If you want to know more about the West Coast LAC, please contact our local team, or the Region Manager.
Local Fire and Emergency management team
Region Manager: Paul Henderson