Northland Local Advisory Committee - mihi mai rā.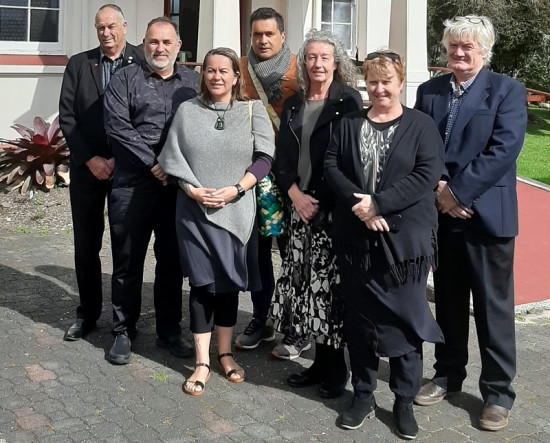 Read more about the members of the Northland Local Advisory Committee.
MITA HARRIS (Chair)

Mita works for the Ministry for Primary Industries, as National Manager Operations for the Ministry's Kauri Dieback Programme. He was previously Director of Māori Heritage at Pouhere Taonga Heritage New Zealand. Mita has held governance roles as Chair of the Northland Conservation Board and member of the New Zealand Conservation Authority and served on the Northern Rural Fire Committee in the Far North. He is a Trustee of the Waitangi National Trust Board.



KAREN JOYCE-PAKI (Deputy Chair)

Karen is a second term Councillor with Kaipara District Council and has 20 years public service experience working for local and central government. She is also a Justice of the Peace and Marriage Celebrant. Karen's aspiration in life is to work for our community, whānau, hapū and iwi to ensure people have access to the services, advice and support they need to help improve their lives. "Naku te rourou, nau te rourou, ka ora ai te iwi - With your basket and my basket the people will thrive".

SARAH HOYLE (Member)
Sarah is the Emergency and Corporate Risk Manager for Northland District Health Board. She has 30 years' experience working in health organisations and coordinating national cross-agency health initiatives. She is the local Chair for Dress for Success.

ISOPO SAMU (SAMU) (Member)

Samu works with young people through his company, Tokotoko Solutions. They provide 1:1 mentoring, group sessions, and run an alternative education programme for young people who have disengaged from mainstream education.

Samu has a background in teaching, Policing, community development and business ownership. He has been a member of the Child, Youth and Family Safety Panel, and chaired various school and community Boards as well as serving two terms as a Whangarei District councillor.

In 2022 his company received the Social Impact Award at the Northland Business Excellence Awards and continues to work closely with families and young people to re-discover their potential through education, training, and employment to become self-reliant while leading a life with meaning and purpose. 

SHEILA TAYLOR (Member)

Sheila is a descendent of Ngāti Kahu and Ngā Puhi ki Whaingaroa. She has a background in finance and currently works as an independent consultant on Te Ao Māori in the public sector. From 2020 to 2022 Sheila was Kaiārahi Kaupapa Māori (Māori Technical Advisor) for Northland Regional Council and has previously worked for Whangarei District Council, the New Zealand Fire Service, Waitemata District Health Board, and the Ministry of Fisheries. She has acted as Treasurer for community groups, including Tai Kotuku Inc, Tai Tokerau Polynesian Canoe Association, Tai Tokerau Touch and the Mountains to Sea Conservation Trust.

HONE TE AHERE RIPIKOI (JJ) (Member)

JJ is a proud descendent of several iwi, including Ngāti Kahu ki Whangaroa, Ngāpuhi, Ngati Paoa, and Ngāti Hine. JJ currently serves as a Community Engagement Advisor at Statistics NZ and has recently been appointed as the Programme Manager for the Locality in Te Hiku o Te Ika. In this role, JJ plays a critical part in implementing health reforms in the region. JJ is also a trustee for Taemaro Marae and sits on the Kahukuraariki Post-settlement Trust Board, demonstrating his commitment to community involvement in Te Tai Tokerau. He has previously held management positions with Aupōuri Ngāti Kahu Te Rarawa Trust and Creative Nātives, showcasing his experience in leadership and management.

He uri whakaheke a JJ no Ngāti Kahu ki Whangaroa, Ngāpuhi, Ngati Paoa rātou ko Ngāti Hine. E mahi ana a JJ ki te taha o Tatauranga Aotearoa i roto i te tīma Whai Wāhi Hāpori hei whakapiki ake i ngā tataraunga o Ngai Māori ki roto i te Tatauranga Nui o Aotearoa 2023. Kātahi anō kua whai wāhi a JJ ki roto i ngā mahi hauora kia whakahaere i te locality e kīa nei ko te Taikorihi Locality. Atu i ngā mahi, ka noho a JJ hei tarahitī mo tōna marae ki runga i te Kahukuraariki Trust Board. He aroha nui tā JJ ki tōna kainga o Te Tai Tokerau me ngā whānau e noho ana ki roto i tēnei rohe. Kua mahi a JJ i roto i ngā roopu kaiwhakahaere o Aupouri Ngāti Kahu Te Rarawa Trust rāua ko Creative Nātives.

SARAH BENIKOWSKY (Member)

Sarah has a background in Information Management and Archives and currently works for Far North District Council. She is one of the Guardians/Kaitiaki of the Alexander Turnbull Library and has served on the Disability Advisory Group for

Whangārei

District Council.

KATE ALEXANDER (Member)

Kate is

the Independent Chair of Delta Produce Co-Op Ltd, Director of Telford Training Farm and Director of

Riversedge

Ltd. Kate is a member of the Institute of Directors and a Trustee of

Tātai

Trust. Previously, Kate was a shareholder-elected Director of

Ravensdown

Ltd and a Council Member (Ministerial Appointee) for The Open Polytechnic of New Zealand. Other roles she has held include Chair of Northland Rural Support Trust, Chair of Federated Farmers' Governance Review Panel and Deputy

Chair of the Northland Agricultural Forum.

KUBI WITTEN-HANNAH, JP (Member)

Kubi

has worked in primary and secondary education since 1976 and as a career councillor for secondary schools since 2004. He retired from full-time teaching at the end of 2021 and now works as a relief teacher. He has spent over 30 years as a volunteer firefighter and over 40 as a surf lifesaver.

Kubi

is a Justice of the Peace and a marriage celebrant.
The map below shows the area that the Northland Local Advisory Committee covers (shown in dark blue).