If you live in or near a rural area, be Fire Smart and protect your home and property from the threat of rural fire. Rural properties, or those bordering a rural area, could be at risk of damage, or loss, due to the spread of rural fires. Homes that far away from urban areas, could also face a longer response time of rural firefighters and urban first response units.
Protect your home with Wildfire Safer Housing Guide
The risk of wildfire threat to housing is on the increase. Factors such as climate change, modern building methods (the trend to open plan design means houses are less compartmentalised), lightweight and composite building materials (often with a synthetic mix) and denser populations living nearer to the natural environment have significantly increased this risk.
If you're a homeowner living in a rural environment, we'd like to provide some advice on how to better protect your home from wildfire.
Fire and Emergency New Zealand have proactively developed voluntary guidance for housing design to improve the survivability of standalone homes that could be at risk from wildfire.
Using a combination of national and international research from the two domains of Fire Engineering and Wildfire Science, and input from industry and public stakeholders, we have produced the Wildfire Safer Housing Guide to inform design and offer homeowners better protection from wildfire events in New Zealand.
The Guide has been shared with councils, construction industry bodies and regulators, and at-risk communities to raise awareness of ways to protect homes from wildfires.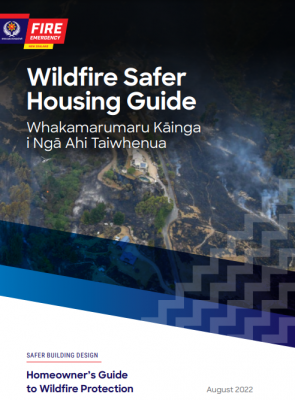 Urban–Rural Interface
Communities can work together to prepare and protect against fire, by understanding the unique fire risks that exist in a rural, or urban–rural interface.
Properties that are residential, industrial or agricultural, are on the urban–rural interface if they are next to vegetation, whether it is forest, scrubland, or in a rural setting.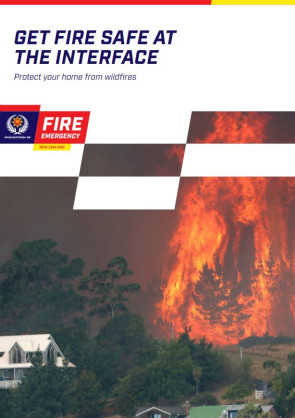 Community responsibility to the threat of rural fire
If you live or own property in a rural area, or on the urban–rural interface, you are part of a community that has a responsibility to manage the risk of fires on your property. The community is responsible because there is no single individual, group or agency that is able to manage all the risks associated with rural fires, and the types of fires that could eventuate in this interface setting.
Together, the community can be responsible for assessing hazards, being aware of fire risk, and preparing for fires. The Community includes:
Homeowners
Businesses
Farmers
Fire and Emergency New Zealand
Civil Defence Emergency Management
Community Officials
Media
Schools
Community member responsibilities
Homeowners, Businesses and Farmers:
Establish and maintain a Fire Smart property.
Officials:
Understand the role of emergency services.

Contact Fire and Emergency New Zealand or your council to find out about local fire emergency plans.

Understand fire hazards, fire danger information and fire season status.

Predetermine whether to stay or to go in an interface fire emergency.
Fire and Emergency NZ:
Provide rapid response to fires.

Promote and carry out fire control measures.

Provide information and fire-safety education.

Monitor fire danger and the fire environment.
Media and schools: