Employers of volunteers. Their stories.
Ken Keenan, self-employed sheep farmer of Southland
Ken Keenan and his family have run a sheep farm in Southland near the Glencoe Highway for more than 33 years, with Ken having helped establish local brigade Hedgehope Volunteer Fire Brigade 25 years ago.

Being self-employed means Ken can respond to incidents during work-hours and go on overseas deployments. Ken strongly believes in supporting his community. As Brigade Controller of his local brigade, he leads a team of more than 20 volunteers, who he has enjoyed seeing develop in skills and confidence.
Ken's been to Australia eight times to help fight wildfires, twice during last year's unprecedented fire season. But this is only possible thanks to the support of his wife Marie. She looks after their farm, and according to Ken runs a pretty good ship when he's responding to a local incident or further abroad.
Peter Barker and Kate Heynes of Peter Barker Accountants, Thames
As a former volunteer, Peter understands the essential role employers play in enabling Fire and Emergency volunteers to respond to incidents during work hours. As a small-town business, Peter Barker Accountants understand the importance of serving their community. Volunteering runs in the family, with Accounting Clerk Kate Heynes following in her father Peter Barker's footsteps, having joined the Thames Volunteer Fire Brigade a few years ago.
Everyone hears the fire siren when it sounds, including Kate's colleagues who are quick to cheer her on as she heads out to respond to the community's call for help.
The office is just two minutes from the local fire station and Kate is often first on the truck. Some calls that Kate attends with her local Fire Brigade can be tough but Kate knows that both her brigade and office colleagues have her back.
Russ and Pete of Marsh's Honey, Ettrick
Russ Marsh and his wife Trudie of Marsh's Honey are third-generation New Zealand beekeepers.
Together they run Marsh's Honey – an award-winning artisan honey business, which was established by Russ's family in 1934 and is based on the banks of the Clutha River in Ettrick, Central Otago.
Happy for Pete to leave during the day to respond to incidents, Russ and Trudie pay Pete for the time he misses and give him the flexibility to start later in the day if he's been out at an incident all night. Their employee Pete Dacy (a beekeeper), volunteers with Millers Flat and Lawrence Volunteer Fire Brigades. He gets what he calls "a real buzz" from volunteering and has Russ and Trudie's full support to respond to local incidents.
''As in all small rural communities, we are reliant on various volunteer commitments to make things happen. We help support Pete's volunteering to help save lives and support locals when property and livelihoods may be at risk. To us that's way more important than sticking to our day-to-day work routine'', says Russ.
Acting Vice-Chancellor Professor Bruce McKenzie and Roger McLenaghen of Lincoln University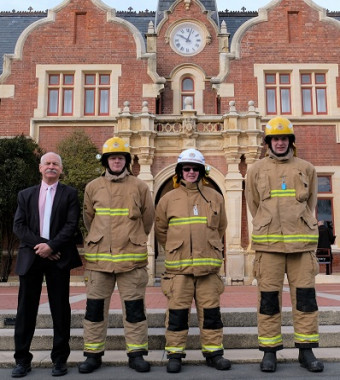 Lincoln University currently has faculty three members (including Senior Tutor Roger McLenaghen) and one student who are members of the Lincoln Volunteer Fire Brigade, each taking turns to be on call during work hours. Roger is the brigade's Deputy Chief Fire Officer.

Acting Vice-Chancellor, Professor Bruce McKenzie, believes the volunteering Roger and his fellow brigade members offer is beneficial for the University as well as the community, so it does everything it can to support them.
This includes providing four priority car parks – which he says are highly valued at the University – so they can respond to a call-out from the fire station quickly.
Having Fire and Emergency volunteers on the University faculty also means the local fire brigade has a good knowledge of the campus and student living quarters for potential incidents.
It also means students see Roger, and the faculty members as part of the local community – not just academics.
Lincoln University is extremely proud to have both staff and students as members of the local Volunteer Fire Brigade and continue to support their activities.
Ben and Yonni Kepes of Cactus Outdoor

Cactus Outdoor manufacture tough outdoor equipment right here in Aotearoa. They also own Albion Clothing who make pager pouches, medical kits, uniforms and other items used at fire stations across the country.
Beyond making uniforms and equipment for Fire and Emergency, this company has another connection to the organisation by employing volunteer firefighters.
Ben Kepes is a founder and one of the Directors of Cactus Outdoor and is also the Deputy Chief of the Waipara Volunteer Fire Brigade. Ben bought the previous Fire Chief's family home over 20 years ago and ended up joining the brigade as well. He hasn't looked back since!

Ben's son Yonni, has also followed in his Dad's footsteps – working for Cactus Outdoor and joining his local brigade.
Ben and Yonni say volunteering for Fire and Emergency and responding to their community's call for help is hugely rewarding.
"Despite putting in a lot of time and effort, I fundamentally believe I get more out of volunteering than what I put in," says Ben.
Huipeng Fang of Tairua Shores Motel, Coromandel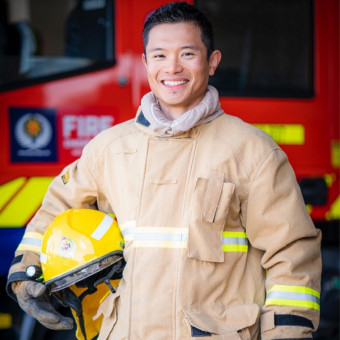 Huipeng Fang owns and runs Tairua Shores Motel in the Coromandel – and also responds to emergencies as a volunteer firefighter with Tairua Volunteer Fire Brigade.
He was introduced to the fire brigade in 2016 and was drawn to the opportunity to work alongside like-minded people to help his community.
Forming strong connections with other self-employed volunteers in his brigade such as builders and plumbers, means they can all help each other out when needed.
Saving lives and helping others is "priceless" to Huipeng and he attends callouts as a volunteer firefighter as much as he can. But as a self-employed volunteer, this means he needs to lock up and leave his motel - putting a sign in his window to let guests know he has gone to respond to an emergency and often texting or calling remaining guests once he is on the fire truck.
While this means he might lose some business, what makes it all worthwhile to him is the banding together of his like-minded mates in the brigade and the community knowing he has their welfare at heart.
Bevan Ritchie and Belinda Wehrle of Apparelmaster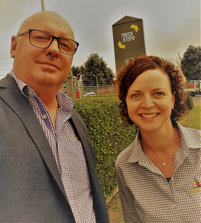 Bevan Ritchie is the Group Managing Director of Apparelmaster - a 100% Kiwi owned and operated nationwide rental workwear and laundry business that services a range of businesses and organisations. It was established by his father and business partner over 40 years ago.
Wearing "many hats", Group Strategic Coordinator Belinda Wehrle has been with Apparelmaster for more than 13 years, and also volunteers with Tairua Volunteer Fire Brigade.
Bevan fully supports Belinda's volunteering with Fire and Emergency during work hours. While they operate from different parts of the country, he trusts her ability to juggle both roles. He sees supporting her volunteering as a great way for his business to give back to Aotearoa and recommends other employers are open to supporting Fire and Emergency in this way.
Belinda's colleagues have become used to hearing the siren go off in the background of a video conference and seeing her dash off-camera to help her local community.
This flexible approach of both employer and volunteer has from Bevan's perspective, led to a rewarding experience for all - an approach he recommends to other employers open to supporting a Fire and Emergency volunteer.
John Burns of WheroNet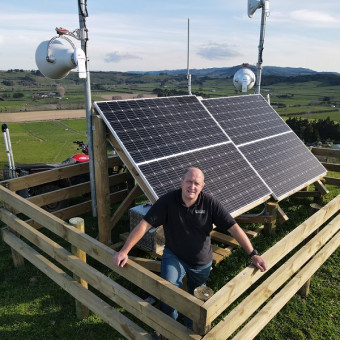 John Burns and his wife Lydia own WheroNet which connects his rural Onewhero community to broadband internet. He also helps his neighbours in emergencies as a firefighter with his local fire brigade.
One minute John could be sorting out a client's broadband with Wheronet and the next, checking their family member's blood pressure with the Onwhero Volunteer Fire Brigade.
Connecting with his community both with Wheronet and the Fire brigade means when his pager goes off and he's in the middle of a project, most clients understand John's need to respond to the emergency.
The company was established in 2014 after John went out of his way to help a friend in Onewhero connect to the internet. He saw a need for an independent network that didn't rely on the wireless infrastructure used by other internet providers.
John and Lydia have over 20 years' experience in IT and wireless technologies. They aim to grow Wheronet and reach other rural areas not currently served by other internet providers.
John is always keen to reach out and help others – a natural fit for his role as a firefighter with Onewhero Volunteer Fire Brigade.
Louis Van Wyk of Tongariro Crossing Lodge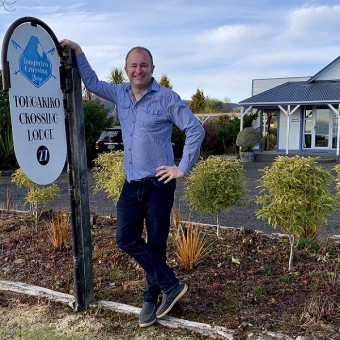 Originally from South Africa, Louis had intended Aotearoa to be the start of a wider overseas adventure. However, this all changed when the keen snowboarder met his partner and started enjoying the New Zealand lifestyle.
After settling in the small central North Island village of National Park to run Tongariro Crossing Lodge, a 2020 TripAdvisor Travellers Choice Award winner, Louis Van Wyk was approached to join the National Park Volunteer Fire Brigade.
Initially he was worried he wouldn't have time to be a volunteer firefighter and run his Lodge. However, after some persuasion from the Chief Fire Officer he decided to join the brigade and he hasn't looked back!
In the beginning, every time the fire siren went off and visitors saw him rushing off to respond to an emergency they would assume the mountain was erupting or the lodge was on fire.
To stop his guests panicking, Louis now makes sure he tells them about his additional role as a volunteer firefighter when they check in.
Louis says volunteering and running the Lodge is working well and he encourages other business owners to also consider joining their local brigade.
"You can make it work - it doesn't matter if you can't make every call," says Louis. "You can become part of a tight-knit team and be there for your community."
Jodie Rainsford – Jodie James Photography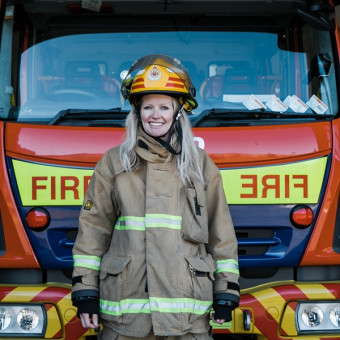 Jodie Rainsford is a Station Officer with the Wanaka Volunteer Fire Brigade. When she's not responding to emergencies, she's out and about taking award-winning photos as owner of Jodie James Photography and The Good Wedding Company.
A woman of many talents, Jodie also has a marketing business helping Wanaka locals position their brand online.
Jodie was introduced to the brigade by a friend. Since she joined her perseverance and dedication have seen her rise through the ranks from trainee firefighter to Station Officer – now taking a leading role in the Brigade and at incidents.
She strongly encourages other women to give volunteering with Fire and Emergency a go. "Give it a try - You'll be a massive asset to your brigade and there are so many skills to be gained," says Jodie.
Derek Miller of Bay Painting Services, Paihia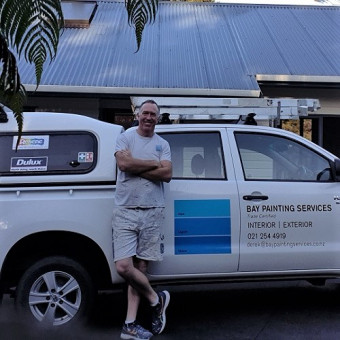 Derek Miller is a self-employed painter and decorator, and a volunteer firefighter with Paihia Volunteer Fire Brigade.
Derek has over thirty years of painting and decorating experience and owns Bay Painting Services in Paihia.
Derek had always wanted to be a volunteer firefighter and in 2016 he finally joined a brigade after settling down in Paihia.
Derek loves the work and helping people. Even when his pager goes off in the middle of the night, he's up and ready to go. More often than not, he only stops to check what type of incident he's attending once he's arrived at the station and about to hop on the fire truck with his crewmates.
Derek says callouts vary from attending fires, car accidents and medical events, to rescuing tourists off cliffs and once, attending a bomb scare at the Duke of Marlborough Hotel.
Kai Kruse, CEO of Nelson Pine Industries Ltd

Kai Kruse is the CEO of Nelson Pine Industries Ltd - one of Nelson's largest employers.
Nelson Pine Industries Ltd was established in 1984 and manufactures timber products for the building and furniture industries. The company played an active role in its local community ever since and supports local sport, education and arts events.
The forest and timber industries are vulnerable to fires and Kai says Nelson Pine Industries owes it to the community to do its part to support firefighting in the district as well.
The company has always employed Fire and Emergency volunteers – supporting them to leave work when they're needed to respond to emergencies.
During the Pigeon Valley fire in February 2019, Nelson Pine Industries provided food for the crews and support staff, and released the team's current Fire and Emergency volunteers Tom Laney and Jeremy Talbot to assist with the firefighting effort for three weeks on full pay.
Kai says supporting Fire and Emergency volunteers is the right thing to do.
"Not only does it mean our people can help the community but Fire and Emergency volunteers bring an array of skillsets and benefits to the business, including identifying and mitigating risks and playing an active part in the team."
Kyle, Hania Rose and Annie of the Blue Mountain Adventure Centre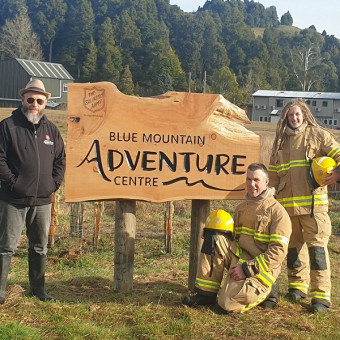 Established thirty years ago on the edge of Tongariro National Park, Salvation Army's Blue Mountain Adventure Centre provides visitors with physical and mental challenges.
The centre offers a range of outdoor activities from white water rafting to caving and mountaineering.
There are just nine staff at the Adventure Centre. Nearly half of them; Kyle Aitken and his wife Hania, Rose Keen, and Annie Beisly also volunteer with the National Park Volunteer Fire Brigade.
While they can't rush to incidents when they are directing visitors up heights or through rapids, they attend incidents when they can.
The two jobs are complementary. The technical skills they need as volunteer firefighters and first responders like medical training and rope work are the same skills they use in their jobs at the adventure centre.
Volunteering with the National Park Volunteer Fire Brigade also gives them the opportunity to help their community, build connections and share their stories.


Patrick Scelly of Load Pilots NZ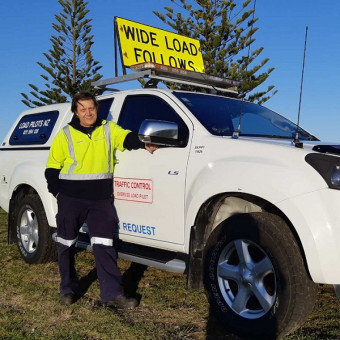 Patrick Scelly owns and runs Load Pilots NZ, a company that pilots vehicles transporting oversize loads. He's responsible for warning other road users of an approaching oversize vehicle, managing any problems that arise and keeping traffic delays to a minimum.
Patrick also provides operational support to Paihia Volunteer Fire Brigade in the Bay of Islands. As a load pilot, Patrick is a qualified traffic controller which proves very useful when he is needed to manage and control traffic at an incident.
It wasn't until Patrick became his own boss in 2013 that he felt he could make his long-time dream come true and join the local fire brigade.
His work takes him out of town a great deal, so Patrick drops into various brigades across the country to keeps his firefighting training up to date.
Patrick believes it is important to support and give back to his community. He also appreciates the support his crew offers each other both inside and outside the brigade.
"The training and hard work we do together means our brigade has a strong bond," says Patrick. "We have each other's backs at incidents but also when we need a hand with something personal."
David Larkin of Lake Brunner Service Centre Marine & Engineering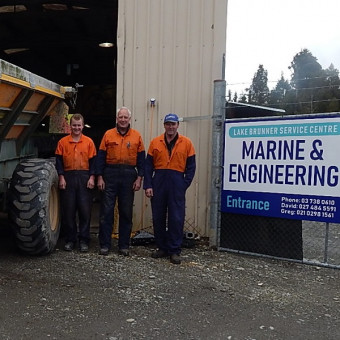 David Larkin has owned and run Lake Brunner Service Centre Marine & Engineering for 27 years. The Chief Fire Officer of Moana Volunteer Fire Brigade has been a volunteer firefighter for 31 years.
David started volunteering with the Brigade after they shoulder-tapped him to fill in for a member leaving the district for a while. He loved it and stayed on, and over nearly thirty years, has barely missed a call out with the Moana Volunteer Fire Brigade.
David's business services farm and road equipment as well as boats, jet skis, and trailers. But when the community needs him to respond to an emergency, he closes the workshop door behind him and leaves a note saying "I'm off to an incident – see you later."
David believes volunteering with his local fire brigade is a way for him and his business to give back to his community, to be there when his neighbours need help.
Ken Laurie - Unison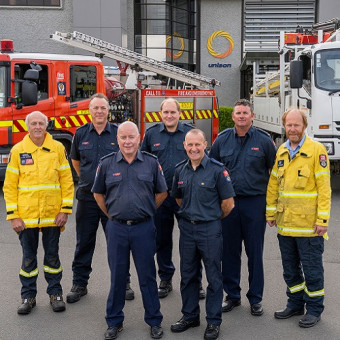 Ken Laurie became a volunteer firefighter with the Hastings fire station after a friend introduced him to the local brigade six years ago. Hastings is a composite station, which means there are career and volunteer firefighters based at the station. They train together and turn out jointly to fires and other emergencies.
Ken loves it. He self-manages his work and volunteering and his employer supports him with flexible working arrangements.
Ken is one of eight Fire and Emergency volunteers who work for the electricity distributor, Unison Networks. Unison owns and operates the network that distributes electricity to Hawke's Bay, Taupo and Rotorua. Its contracting arm, Unison Contracting Services, performs the field works in these regions, as well as Dunedin (as part of its Field Services Agreement with Aurora Energy).
Unison volunteer firefighters are members of the Hastings (Neal Gribben and Ken Laurie), Havelock North (Bruce Dockery and Paul Fisher), Bayview (Ruban Smith) and Waikouaiti (Ryan Griffiths) fire stations. Unison Contracting employees, Ross Berry and Bob Wallace are members of rural crews. While the volunteers' length of service is varied, both Bruce Dockery and Neal Gribben celebrated 25 years' service recently.
Unison's General Manager of People and Culture, Quentin Varcoe says the company is very supportive of its volunteers.
"As a company that celebrates diversity and inclusion, it is exciting to see our people develop outside of their professional roles. We provide as much support as possible, which includes developing their skills to perform under pressure (especially in a response situation) and fostering their health and wellbeing by encouraging them to do what they're passionate about."
Having a workforce so involved with the community not only encourages a strong, local connection, it is just as important for the relationship with Fire and Emergency in instances where there are fires in properties or areas which have a Unison power supply to them. Ken has been further developing the relationship between the Hastings station and Unison to encourage ongoing collaboration.
So what keeps Ken volunteering? Every situation is different he says, and he gets satisfaction from a job well done. Being part of a supportive station and having training opportunities also builds his confidence, both professionally and personally.